Bienvenue à Reutlingen!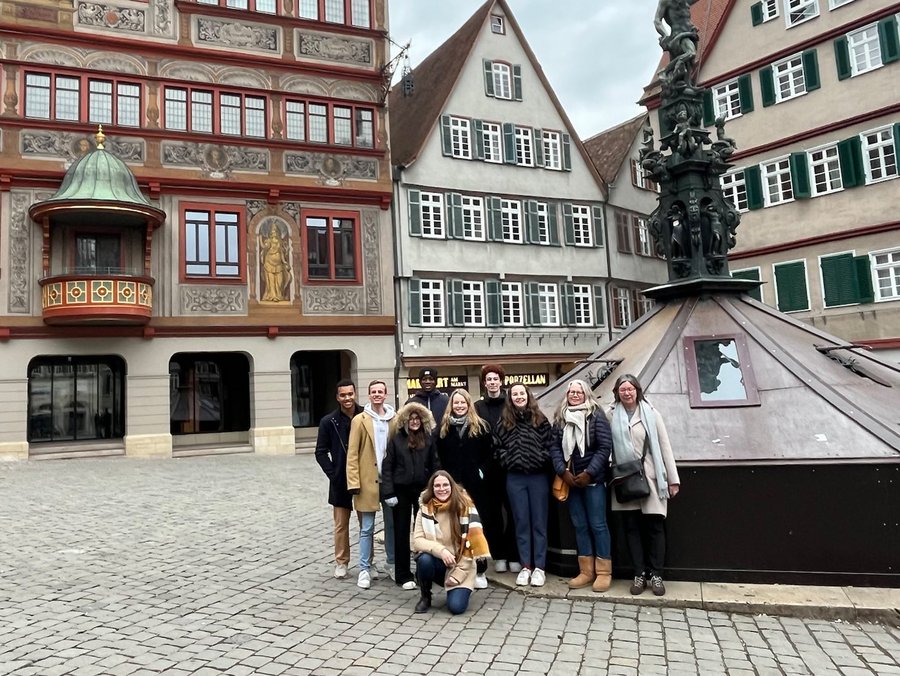 By Annette Wucherer
Two countries, two degrees. The students on the BSc International Management Double Degree (IMX) programme spend half of their studies abroad. In order to prepare for the change in location in advance and make it as smooth as possible, the German-French country link includes an excursion to the partner university. For the first time since the pandemic-related break, the tradition has now been resumed.
At the beginning of March, the students from the 4th semester of the German-French study programme at NEOMA Business School in Reims visited Reutlingen. The excursion was supervised by programme coordinator, Ursula Klein-Hessling. During the opening weekend, the guests from France got to know their German fellow students over a meal together and explored the surrounding area on a guided tour of nearby Tübingen.
The students started the university week with a taster lecture on International Economics by Professor Dr Larissa Zierow. By attending a German lecture, the students were able to gain a real insight into the working and teaching methods at ESB Business School and to compare them with the conditions in Reims.
Programme coordinator Annette Wucherer then welcomed the group, providing an outlook of the coming academic year in Reutlingen and information about the structure of studies at ESB and the mandatory and elective modules offered. During an extensive campus tour, the French guests got to know their future place of study and had the opportunity to visit the halls of residence.
The preparatory trip to Reutlingen eases the transfer from Reims to ESB Business School. Excursions of German students to France are also planned again in the future.