"Business administration professionals are generalists"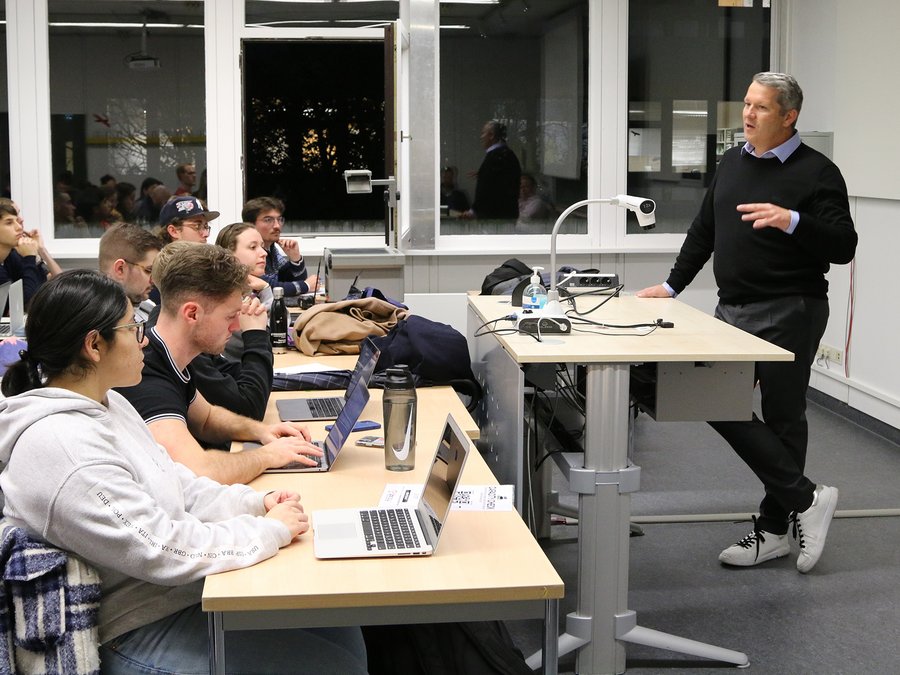 By Sofia Schwartz, Louis Vaillant und Katrin Reil
It is 27 years since Christoph Schell graduated in the German-French link of today's BSc in International Management Double Degree programme. Nevertheless, the Chief Commercial Officer of chip manufacturer Intel has never forgotten his Reutlingen roots. He regularly returns to ESB Business School to give guest lectures and exchange ideas with students. Last week, for the first time since the pandemic, it was possible for him to attend again in person.
At the beginning of his visit, Christoph had a lot of impressions to share with the students. He spoke about the current challenges facing internationally operating companies in troubled times in general and for the chip industry in particular. He is convinced that chips are one of the most important raw materials for digitisation and the demand for them will continue to rise in the future. At the same time, he said, it is necessary for companies to reposition themselves in this area and create access to products directly in Europe. Intel is currently tackling this issue by building a factory in the Magdeburg region. Christoph also cited reducing dependence on China and working in an "essential industry" as his personal motivators for the career change from HP to Intel, which he made at the beginning of the year.
In addition to technical details, the CCO also spoke about his values in the management of the company. You have to be prepared to make a long-lasting commitment to high-impact goals and show resilience in times of crisis. He finds the behaviour of some 'millennial companies' or prominent digital entrepreneurs incomprehensible. "As a good manager, you have two ears and one mouth and should use both in exactly the same proportion", advocating that we should spend more time listening to people than reproaching them. This applies in communication with customers as well in dealing with crises or in the search for the best talents.
Christoph sees the search for qualified young people as the key task for the future: "You sometimes have to accept that you yourself are not the smartest person in the room". He is not a qualified engineer, for example. He says his main task is to package information about a complex product for customers in a way that resonates. "Business administration professionals are all-rounders, not experts. We need to surround ourselves with them", was his advice.
Christoph gave detailed answers to the many questions from the students, in which he repeatedly included the audience. At the same time, the top manager enriched his lecture with anecdotes. For example, he only had to marry his wife, whom he met at ESB, to enable them to move to Dubai together. Many years of marriage and two children later are proof that the decision paid off.
Adapting to new countries, new cultures and new circumstances was Christoph Schell's most important advice for a successful international career. "I am not the same Christoph when I am in the USA, Europe and Asia. You have to be able to adapt to your environment. With me, nothing was planned from the beginning, everything happened/came with time. I didn't want to spend my life in Kirchheim unter Teck, but was curious about the world. I thank my wife and family for being able to do that.
The students in turn thanked Christoph after around two hours for an impressive exchange with a lot of new information and inspiration for their own career paths. Dear Christoph, see you soon at ESB!