"Development aid is not a mass product"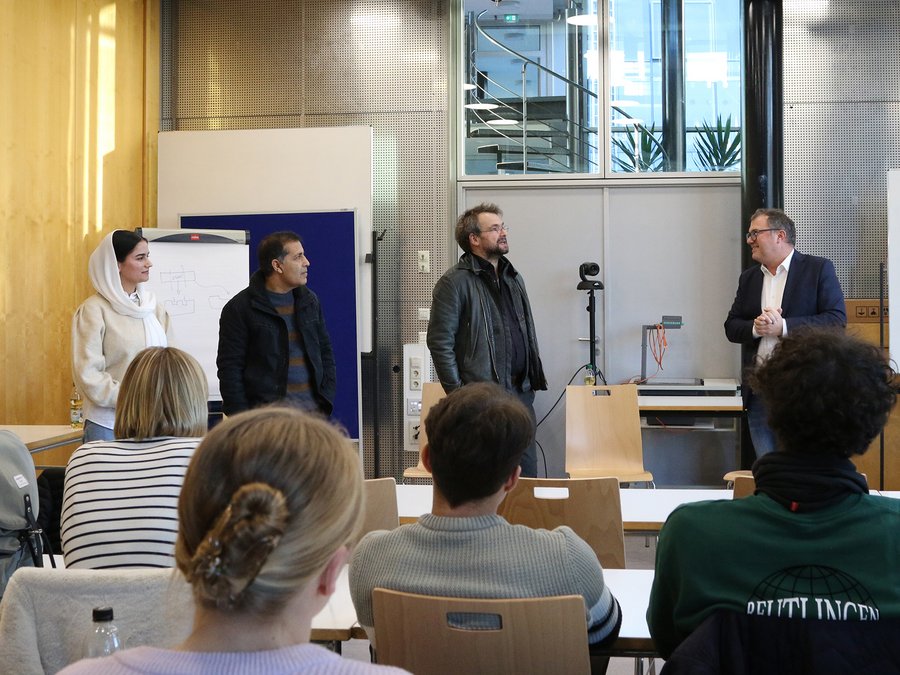 By Anna Goeddeke und Katrin Reil
ZEIT journalist Wolfgang Bauer is one of Germany's most experienced and high-profile war correspondents. He has received numerous national and international awards for his work in countries such as Afghanistan, Syria, Libya and Ukraine. He recently visited the BSc International Business Honours Programme with a small delegation. The focus of the discussion with the students was Afghanistan, the role of the West there and perspectives for the country.
"I don't understand people who want to fly to the moon and to Mars when they haven't been to Afghanistan yet", is how Wolfgang Bauer sums up his fascination in one sentence. Since his first report from there in 2002, he has repeatedly reported on the country's political and social developments. According to Bauer, Afghanistan naturally triggers many values that are important to him, such as freedom or equality. At the same time, however, it is a country full of stories that need to be told.
Over the decades, Wolfgang Bauer has always been supported by people on the ground. Waheedullah Masoud is one of them. He now lives in Reutlingen and accompanied the journalist to ESB Business School to contribute his perspective. For him, too, as a translator, it has always been important to bring stories and people together and to convey what is between the lines in different languages. Because of his cooperation with Western media, Masoud was threatened and had to flee Afghanistan with his family.
Wolfgang Bauer's second companion also left the country during the days when the Taliban seized power. Moqadasa Mirzad is only 21 and was herself a student at Kardan University in Kabul. She gave an impressive account of her time there as the only woman among 61 students in Computer Science: "It was exhausting because I didn't really have contact with the male students and had to do group work alone." When she fled, she also had to give up her studies and now first learn the language in Germany. She does not know yet what she wants to do afterwards. At her age, she said, she would have been married or at least engaged in Afghanistan long ago. The fact that she is not yet married is a bit rebellious.
In addition to the impressive first-hand accounts, there were also many intensive discussions with Wolfgang Bauer and his team, for example about the curse and blessing of the "Ring Road", which connects many Afghan cities. The journalist also spoke about his latest report from Afghanistan. He had visited girls who had been taken out of school and now had to work as carpet weavers – 12 hours a day and in poor lighting, so that they lose their eyesight. "Would you buy a carpet like that?", the war correspondent asked the group. This is a difficult ethical question because the fate of the girls would be countered against economic necessity, he himself answered: "The people need the money".
The journalist is critical of the role of the West in Afghanistan: "We have poured too much money into short-term projects in this country in too short a time without really understanding how it works. Development aid is not a mass product, it has to be customised."
The atmosphere in the room shifted between laughter and concerned silence during the animated exchange. With new insights into a topic that should not be forgotten, the students said goodbye to Wolfgang Bauer, Moqadasa Mirzad and Waheedullah Masoud.