ALDI SE & Co. KG
Cooperation partner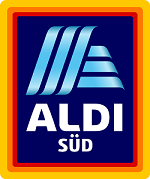 Efficient and responsible – simply ALDI SOUTH
The ALDI SOUTH group is represented by 25 regions in Western and Southern Germany. ALDI SOUTH operates approximately 1,980 stores with more than 49,600 employees in total (of which more than 4,800 are apprentices). Internationally, the ALDI SOUTH group is represented in eleven countries with a total of 86 regions and operates approximately 6,982 stores. ALDI SOUTH stands for consistently high quality and excellent value for money in the grocery retail and consumer goods sector.
Product range and quality
As one of the leading discount retailers in Germany, ALDI SOUTH stands for a clearly structured and top-quality range of products at the best price. The ALDI SOUTH product range in Germany currently comprises approximately 1,750 core range products. In addition, the ALDI SOUTH group offers its customers approximately 110 high-quality specials per week. Since the organic product range has been successively extended, approximately 450 organic products are currently listed at ALDI SOUTH. The ALDI SOUTH group has developed a fair price and product range policy and is committed to being a reliable partner for its customers at all times. This is why ALDI SOUTH offers exactly those products that meet the customers' everyday needs and offer them the best value for money.
Your career at ALDI SOUTH
If you are a high performer and are seeking the opportunity to quickly work independently, we would like to meet you. University graduates can pursue a wide range of career paths at ALDI SOUTH. As an Area Manager (f/m/x), you will assume full responsibility for approximately five stores and at up to 70 employees after nine to twelve months of on-the-job training. From the very first day, graduates are prepared for the demands of their leadership duties. The daily tasks of an Area Manager include personnel management as well as the recruitment of new employees and the training and ongoing professional development of employees.
It is well worth mentioning that beginners who have completed a course of studies and have already gained professional experience are also more than welcome at ALDI SOUTH.
The further career prospects speak for themselves: Provided that corresponding positions are vacant, Area Managers with appropriate qualifications can be appointed to one of our regions abroad (e. g. Australia or USA).
We look forward to receiving your application, preferably submitted online on our career portal.
ALDI SE & Co. KG Murr
Lehmgrube 5
71711 Murr