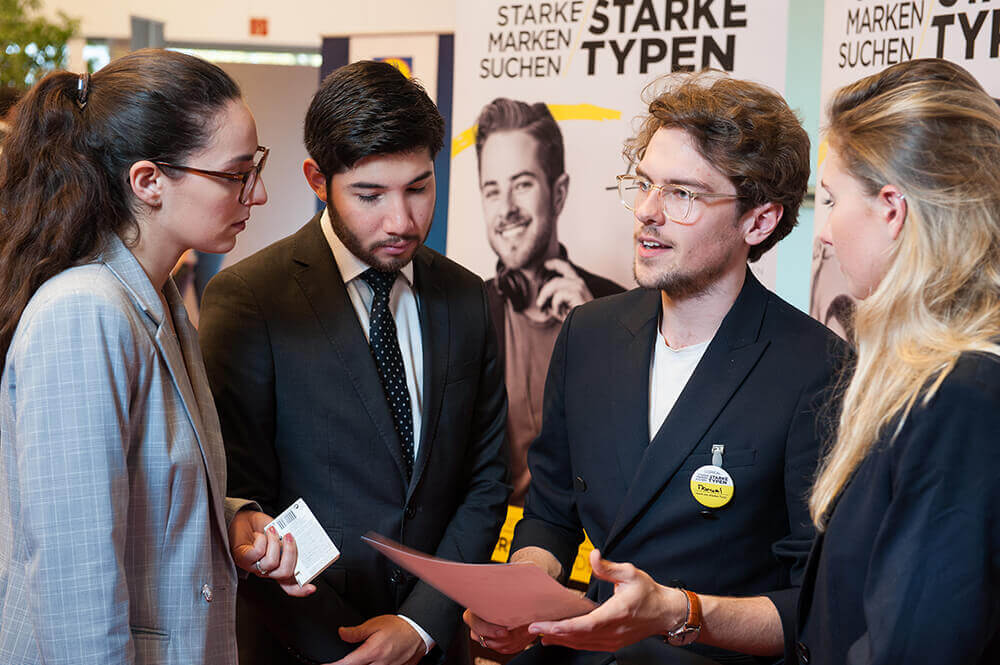 International
Business Fair
The ESB Business School's International Business Fair (IBF) is a careers fair at Reutlingen University campus.
Date: 28 and 29 March 2023
ESB Business School implements the fair in cooperation with dedicated students from the Student Network.
As every year, all students have the opportunity to introduce themselves to attractive companies and receive first-hand information at the International Business Fair.
Why should our students definitely be there again? The IBF gives them access to renowned and globally-active companies, which, as always, are available to them for personal talks at the exhibition stands. In 30-minute presentations, the exhibitors introduce themselves and answer questions from students. In addition, students have the opportunity to obtain a position for an internship, a thesis/ final project or even a job offer via pre-scheduled interviews.

The IBF makes the application process much easier for our students

Students know their application contacts and can find them quickly.

They know in advance which jobs the companies are offering.

They can be sure that their academic training is interesting for the companies (otherwise they would not come to the IBF).

Even if you do not want to apply for a specific job, you can build and expand your network at the fair and make contacts with the business community.
Our IBF is therefore interesting for students in every degree programme and every semester. We recommend that all ESB Business School students take full advantage of this opportunity again this year. We look forward to highly interesting days at the fair in the spring.
Are you interested in participating in the International Business Fair at ESB Business School?
What framework does the International Business Fair offer you?
The careers fair will take place in 2023 once more, offering you as a company the opportunity to present yourself to the students of ESB Business School at Reutlingen University and to make contacts.
You will have the opportunity to get in touch with our students in a (virtual) environment. In this way, you will also reach students who will be at one of our international partner universities in the coming summer semester.
As usual, in addition to the interactive exchange at the (virtual) exhibition stand, the presentation of your company by means of a company profile and the publication of vacancies on your Job Wall, you can present your company in a lecture and answer the students' questions in a subsequent Q&A session. You will also have the opportunity to view the profiles of registered students in advance and hold scheduled one-on-one interviews with selected students.
Who will you be able to reach
You will reach around 1,100 ESB Business School Bachelor and Master students at the International Business Fair. The ESB Business School's highly practice-oriented approach produces highly competent graduates who are in great demand on the job market. You have the chance to attract these professionals of tomorrow at an early stage.

For details please contact the Career Center.
The following companies participated in IBF 2022:
| Participation on campus on 05.04.2022 | Participation online on 06.04.2022 |
| --- | --- |
| accilium GmbH | 4flow AG |
| ALDI SÜD | Accenture GmbH |
| AlphaSights | Adolf Würth GmbH & Co. KG |
| Altman Solon | BNP Paribas |
| Amazon EU SARL | Robert Bosch GmbH |
| ARBURG GmbH + Co KG | Consultport GmbH |
| ARTHUR D. LITTLE | Dassault Systèmes GmbH |
| BDO International Ltd. | Deutsche Bahn AG |
| BearingPoint | EY-Parthenon GmbH |
| Beurer GmbH | Hermes Germany GmbH |
| BITZER Kühlmaschinenbau GmbH | Holtzbrinck Publishing Group |
| Bonduelle - BDG GmbH | HP Deutschland GmbH |
| Capgemini Invent | KPMG AG |
| Celonis Deutschland GmbH | LIDL |
| Coca-Cola Europacific Partners GmbH | Mücke Roth & Company GmbH |
| CONCEPT AG | Palo Alto Networks |
| Deloitte Consulting GmbH | Porsche AG |
| Ebner Stolz | SAP SE |
| ElringKlinger AG | Schwarz Dienstleistungen KG |
| enomyc GmbH | SOLCOM GmbH |
| EY | Stern Stewart & Co. |
| Geberit GmbH | |
| Hanselmann & Compagnie GmbH | |
| Henkel AG & Co. KGaA | |
| Hilti Deutschland AG | |
| Horváth & Partner GmbH | |
| Hugo Boss AG | |
| H&Z Unternehmensberatung AG | |
| Implement Consulting Group | |
| INVERTO GmbH | |
| Alfred Kärcher SE & Co KG | |
| Landesbank Baden-Württemberg | |
| Marelli Automotive Lighting Reutlingen GmbH | |
| MHP Management- und IT-Beratung GmbH | |
| MLP Finanzberatung SE | |
| MOONROC Advisory Partners GmbH | |
| OC&C Strategy Consultants | |
| Personio | |
| Procter & Gamble | |
| PwC - PricewaterhouseCoopers GmbH | |
| Ritzenhoefer and Company | |
| Rödl & Partner GmbH | |
| RWT | |
| Scalable GmbH | |
| somfy GmbH | |
| STAUFEN.AG | |
| Telekom AG | |
| Tenthpin Management Consultants AG | |
| XTP AG | |
Impressions from IBF 2022