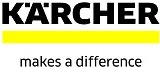 Kärcher is the leading provider of cleaning technology worldwide. With high-pressure and ultra high-pressure cleaners, vacuum cleaners and steam cleaners, vacuum sweepers and scrubber driers, gantry car washes, cleaning agents, dry ice blasting machines, drinking water and waste water treatment systems, water dispensers, as well as pumps and watering systems for home and garden, Kärcher offers a wide range of innovative solutions. This range includes perfectly matched products and accessories as well as consulting, service and various digital applications.
In 2022, Alfred Kärcher SE & Co. KG achieved a turnover of EUR 3,161 billion, the highest in the company's history. The family-owned company has 15,330 employees in 80 countries and 150 companies. More than 50,000 customer service points throughout the world provide comprehensive customer support worldwide. Innovation has played a key role in the company's growth and since its foundation in 1935 has become an important part of the corporate culture. About 90% of all products are five years old or less. Over 1,000 employees at the cleaning appliance manufacturer work in research and development. Kärcher currently holds 640 active patents.
The engineer and passionate inventor Alfred Kärcher, who founded the company in 1935, searched with untiring creativity and inventive spirit for solutions to technical problems. However, he never lost sight of his responsibility for the concerns of his employees.
Until today, Kärcher has been socially committed over and above its daily activities. For more than ten years SOS Children's Villages throughout the world have been provided with cleaning machines and green filter systems in developing and emerging countries built in cooperation with the Global Nature Fund.
As part of its cultural sponsorship programme, Kärcher has cleaned and restored over 150 monuments worldwide since 1980. These include the colonnades at St. Peter's Square in Rome, the Brandenburg Gate in Berlin, the statue of Christ the Redeemer in Rio de Janeiro, the more than 3,300-year-old Colossi of Memnon in Luxor, Upper Egypt and the Presidents' Heads at Mount Rushmore. Cleaning is always carried out in close cooperation with monument conservators, restorers and art historians.