Communication Technology Laboratory
Digitisation, networked computing and the ubiquity of data are megatrends that lead to ever greater and more complex data volumes. Secure and fast data processing and transmission play a key role in the societal context. This is accompanied by the continuous improvement of information and communication systems as well as networks. This is where the research focus of the communication technology laboratory comes in.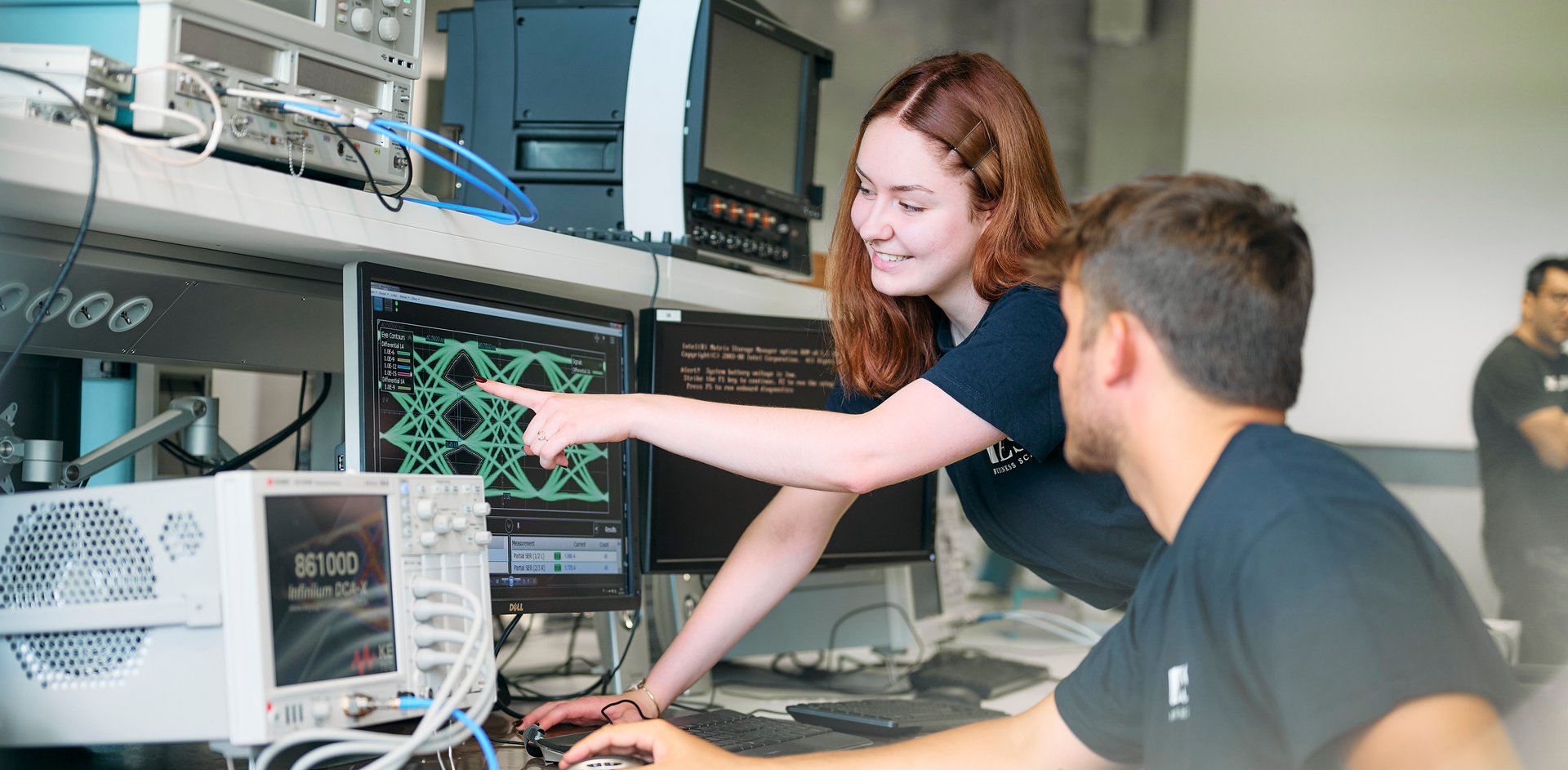 Research focal points
Transmission technology via symmetrical copper cabling
Spectral measurements up to the high-frequency range

Data transmission and remote power supply via single-pair cabling (single-pair ethernet)

Data transmission up to 100 Gbit/s via four pairs

Real-time transmission

Remote power supply: Modelling and measurement of warming and the impact on transmission properties. In addition to data transmission, remote power supply of the connected end devices can take place with copper cabling through dual use of the IT infrastructure. This is used, for example, for remote power supply of radio network access points.
Transmission technology via optical fibre cabling
Attenuation measurements

Mode field measurements
Electromagnetic compatibility/interface immunity and transmission reliability
Coupling attenuation measurements

Line injection measurements

Transfer impedance measurements
Radio tag identification systems
Distance measurements

Pulse measurements

Frequency measurements
Technical equipment
Network Analyzer, E5070B from Agilent

Sampling Oscilloscopes from Keysight and Tektronix

Real Time Oscilloscope, SDA 820Zi-A fromTeledyne LeCroy

Arbitrary Waveform Generators from Keysight and Tektronix

Gore Line Injection Messplatz

Coupling pliers

Monochromator

Optical Benches
Current and completed projects
Symmetrical copper cabling for data transmission and remote supply up to 3 GHz and 100 W

100 Gbit/s via symmetrical copper cable

Modelling and metrological verification of high-frequency transmission links

Gigabit-transmission

High-speed networks

- Single-pair transmission channels for data rates of at least 1 GBit/s with a range of 100m for loT/lloT in industrial, building automation and residential applications. - Next-generation application-neutral cabling: data and power transmission via single- to multi-pair symmetrical cabling in correlation to bandwidth and range for data rates up to 200GBit/s