VALORKON
The new biorefinery - valorization of condensate streams from torrefaction of biomass solids
The innovation in VALORKON is to recover valuable basic chemicals of high quality in addition to conditioning the residues into a hydrophobic material. For this purpose, Fraunhofer IGB and Heckmann are developing a process chain with which these valuable substances can be selectively separated.
As part of this research project, Reutlingen University showed that the biorefinery is ecologically and economically very well suited to supporting the goal of climate neutrality by 2050 within the framework of the European Green Deal and to realising the transformation from linear to circular value chains.
Initial situation
Hay, straw, wood and plant residues were previously an insufficiently utilised energy and material potential in Germany with more than 100,000 GWh or 370 PJ (basic data Bioenergy Germany 2017, Association of Renewable Raw Materials). However, in the case of direct incineration or torrefaction according to the state of the art, valuable organic ingredients such as acids (acetic acid, levulinic acid, formic acid), furfurals or aromatic compounds (phenol, vanillin) are not recycled. The economic potential is not utlilised holistically.
Project goal and solution approach
VALORKON is developing a completely new, fermentation-free biorefinery concept for biomass from agricultural and forestry residues. A process for drying and torrefaction with superheated steam (SHS) is used, which Fraunhofer developed together with the project partner Heckmann in previous projects.
The SHS process is ideally suited to producing highly efficient, storage-stable solids from lignocellular residues, which enable a variety of uses as high-quality fuels, absorbents, soil improvers or input material for pyrolisis or gasification processes.
The innovation in VALORKON is to recover valuable basic chemicals of high quality (purity > 95 percent) in addition to conditioning the residues into a hydrophobic material. To this end, Fraunhofer IGB and Heckmann are developing a process chain with which these valuable substances can be selectively separated from the volatile phase released during torrefaction.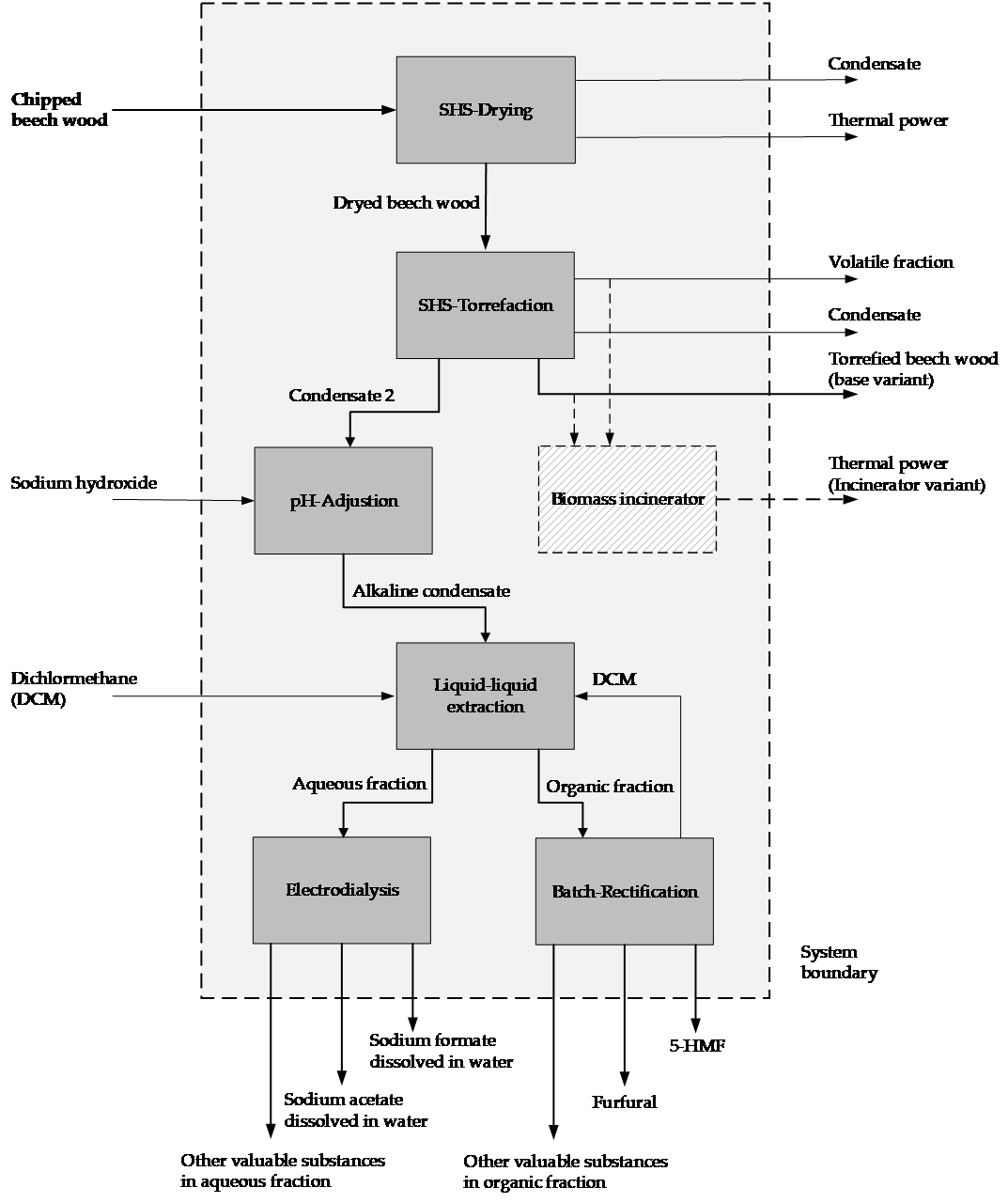 The by-product of SHS torrefaction is a condensate of water and potential valuable substances such as organic acids, methanol or furfural. In the VALORKON project, funded by the German Federal Ministry of Education and Research (BMBF), separation processes were developed with which these platform chemicals can be obtained in high purity from the condensate of the torrefaction of beech wood chips.
A batch rectification plant was put into operation to separate the condensate flows into individual reusable materials. In combination with other separation processes, such as extraction and electrodialysis, furfural with a purity of approx. 95 percent could be recovered from the condensate. The purification of other reusable materials, such as organic acids, is part of still ongoing work.
In parallel with the technical work, Reutlingen University conducted an ecological and economic evaluation of the overall process, consisting of drying, torrefaction and recovery of reusable materials from the condensate. Competitive processes were also examined ecologically and economically. The results were integrated into the optimisation process during the development of the new biorefinery. It was shown that the new biorefinery is competitive both economically and ecologically compared to conventional and bio-based processes.
Reutlingen University recommends a step-by-step approach for successful commercialisation in an open innovation system.
It is important to include public and private partners from the biomass supply sector and the end product sector, and also to consider partners outside the value chain. In particular, the following sectors should be considered as innovative partners for such a network, in no order of preference:
Utilities with high innovation potential (e.g., from the municipal sector) which already have experience with biomass use

Companies from the speciality chemicals, pharmaceutical and food sectors with a connection to the bioeconomy

Innovative engineering firms with experience in biomass processing

Consulting firms based in the bioeconomy with in-depth knowledge of supply chain aspects

Start-ups and SMEs specialised in application know-how and commercialisation aspects in the bioeconomy.
I have never experienced a professor who has been so personally committed to a research project. Thanks to the work of Reutlingen University, we have succeeded in developing a competitive process. We would like to have Reutlingen University on board for the follow-up project.

Antoine Dalibard

Overall Project Manager VALORKON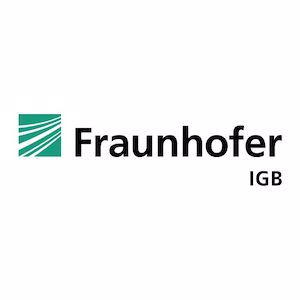 Fraunhofer Institute for Interfacial Engineering and Biotechnology IGB, Stuttgart: Fraunhofer IGB develops processes, technologies and products for healthcare, sustainable chemistry and the environment. It focuses on the combination of biological and process engineering competencies in order to contribute to human well-being, a sustainable economy and an intact environment with the systems approach of the bioeconomy and bio-inspired, bio-integrated as well as bio-intelligent solutions. Fraunhofer IGB is one of the 75 institutions and research facilities of the Fraunhofer Gesellschaft, the world's leading organisation for application-oriented research.
---
Heckmann Metall- und Maschinenbau GmbH, Verden: The focus of activities is the manufacture, maintenance and repair of conveyor systems, sterilisers, pumps, drives and production machinery of all kinds for the food, paper and chemical industries. Further, a wide range of automation solutions are developed there. Steel and sheet metal constructions made of structural steel and stainless steel are also part of the portfolio. The company is also available as a project planning and engineering partner.
Manufacturing Process, Sustainable Technologies